Republic Adda Bar & Lounge Ladies Night
Offer verified 2nd Dec 2022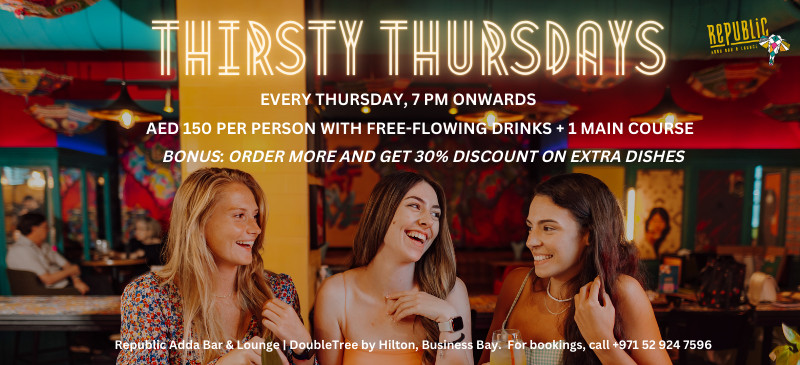 Offer
AED 150 for unlimited drinks and a main course. 30% off additional food order.
Drinks on offer
Sparkling, Cocktails, Red wine, White wine, Spirits
The trendy restaurant bar, Republic Adda Bar & Lounge, is one-of-a-kind with striking colors, vibrant umbrellas hanging from the ceiling, and even an authentic tuk-tuk standing at the entrance where you can enjoy modern Indian street food with a twist. Ladies are treated to unlimited beverages and a main course for just AED 150 each. There is a bonus, if you order more dishes, you get a 30% discount on the additional dishes. Let loose with your girlfriends while an international DJ plays all the right tunes from Bollywood to Hollywood.
Republic Adda Bar & Lounge Location Map
Venue
Republic Adda Bar & Lounge
Building
DoubleTree by Hilton Business Bay
Venue type
Bar and Lounge
If you are the bar or hotel manager and notice any mistakes or would like to edit your offer details please
get in touch with us
.